Modern systems of agreement
Just as CRM, HCM, and ERP became purpose-built solutions to manage data and to drive workflows in their respective areas, a modern system of agreement needs its own purposebuilt solution. This solution must act as a hub to coordinate and connect with all the other systems and processes that feed, support, or consume agreements—including CRM, HCM, and ERP systems themselves. The technology for such a solution is real now. A useful way to think about it is in terms of the Prepare, Sign, Act, and Manage stages' activities.
Prepare
Sign
These activities are about creating an agreement to the
point that it is ready for signing.
For example:
– Create a document in a productivity application like
Microsoft Word or Google Docs, then easily transfer the
document into an agreement process.
– Provide industry-approved agreement templates, such as
those required by regional real estate associations.
– Pull data from systems of record—like CRM, HCM, and
ERP—to automatically populate parts of an agreement,
such as customer, product, and pricing information.
– Automatically generate an agreement with clauses that
dynamically configure themselves based on, for example,
the signer's geographic region.
– With a wizard-like experience, guide the signer to
provide information necessary to automatically create an
agreement customized to his or her needs, such as for a
loan application.
– Allow multiple parties to review, redline, and collaborate
on the draft agreement, so the deliberations are tracked
and the agreement is versioned in an auditable way
These activities are about getting the signature
executed in a legally valid manner.
For example:
– Route the agreement to multiple parties with
different roles, like reviewers, approvers, and
signers. For signers, some may only sign in a
certain order, and others may sign in parallel.
– Identify each signer with a method appropriate to
the agreement type and regional laws. This could
range from a simple email authentication to the
signer's presenting an official document via video
conference.
– Monitor the status of each participant in the
process, so it's clear who still needs to do what.
– Certify the signing process and the completed
agreement, including a detailed record of who
did what, how they were authenticated, and other
contextual information.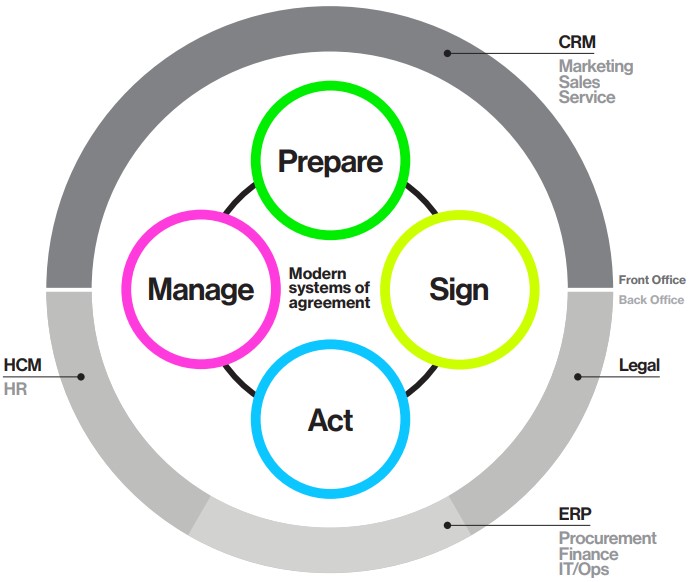 Act
Manage
These activities are about fulfilling the signed agreement's
terms.
For example:
– If the agreement requires a payment, automatically
transfer the amount to a billing system or, better, collect
the payment as part of the signing process.
– If the signer has provided new or updated information
as part of the process, automatically transfer that
information back to the relevant system of record, such
as a CRM system.
– Trigger other processes based on an agreement's
completion, such as to provision a new customer
account.
These activities are about managing agreements
after they are completed.
For example:
– Retain agreements securely in a centralized place,
or maintain centralized access to agreements that
reside across different repositories.
– Search agreements based on a variety of criteria,
including AI-driven6 concept search.
– Report on agreement completion, turnaround time,
and various other trends.
– Analyze agreements' clauses for risks and
opportunities.
These capabilities are not futures. A modernized system
of agreement can enable them today. The result is
reduced time, cost, and risk, as well as an enhanced
customer and employee experience.
Salesforce
An excellent example of a company running a modern system of agreement is Salesforce, one of the world's leading software companies. In the past, Salesforce reps sent out contracts by email and postal mail, receiving completed agreements back in an average of two days. Once the contract was finalized, the Sales Operations team had to follow up with the customer to get a Purchase Order (PO) number for invoicing. Only once that process was complete would the customer be provisioned. Using the Digital Signature Agreement, Salesforce now creates and automatically populates agreements with data from any Salesforce CRM record, then sends the agreement for signature, all directly from within the Salesforce application. The customer enters the PO number during the signing process, then the PO number is written back to the Salesforce CRM record. A new instance of Salesforce's software is then automatically provisioned for the customer. With its modernized system of agreement, over 90% of Salesforce contracts are completed within the same day and 71% within an hour. This large time savings means a better customer and employee experience and faster revenue recognition. As well, there is a major cost savings due to manual work saved. Beyond using its system of agreement for its thousands of sales reps, Salesforce has also deployed the Digital Signature Agreement for use by HR, Purchasing/Procurement, and other departments.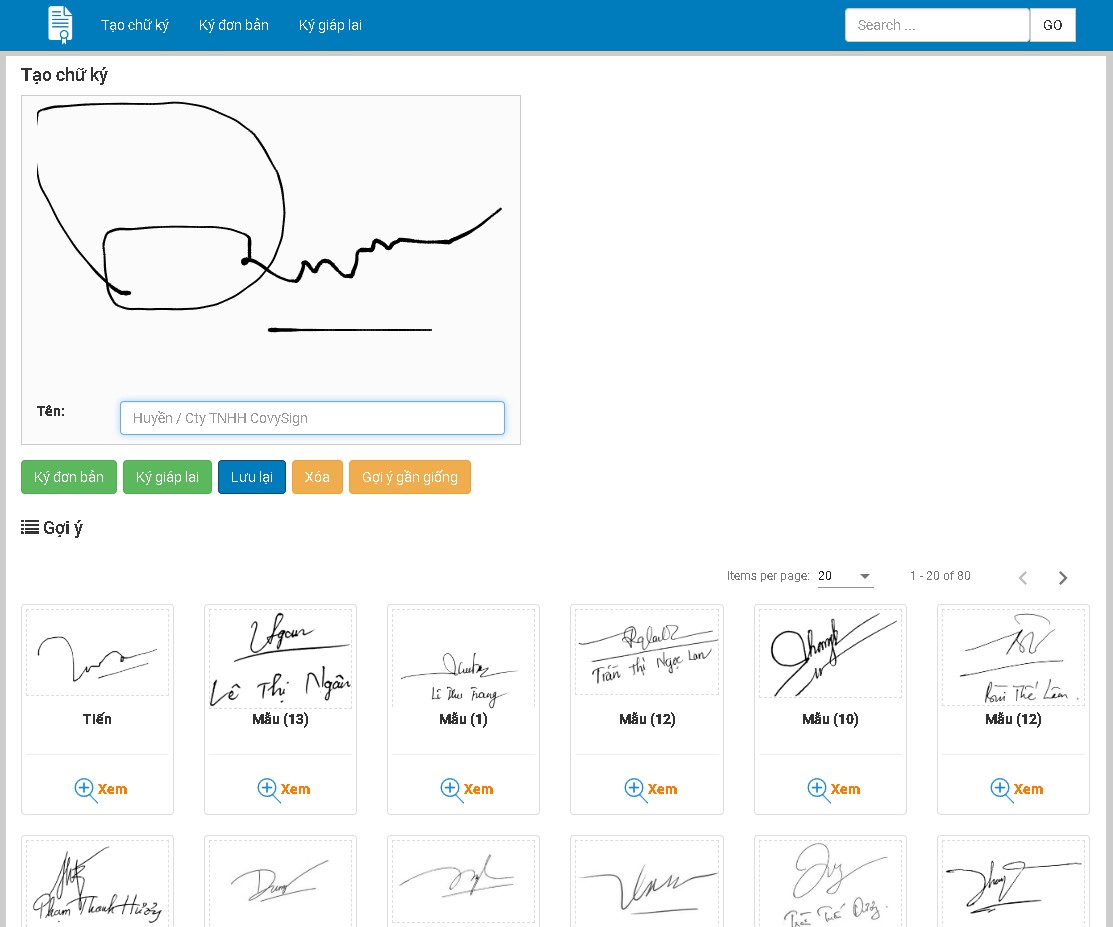 Try at: https://sign.sprogroup.com